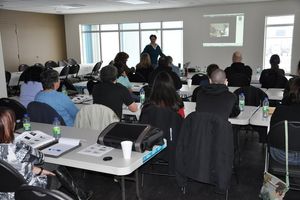 I have been an animal trainer for 35 years and have been teaching animal behaviour and animal-assisted therapy at our local college and in my private institution for over 10 years. I can honestly say, I love every minute of it. My specialties are inter-species communication, social cognitive learning theory, attachment, advanced problem-solving skills, and exotic animal husbandry training.

The conferences, seminars, and workshops I give are filled with theoretical and practical information. I like to demonstrate, give examples, and mimic behaviour if necessary. Each event is adapted to satisfy your particular needs; therefore, these events can last from a few hours to a weekend. I can adapt my schedule to satisfy your needs.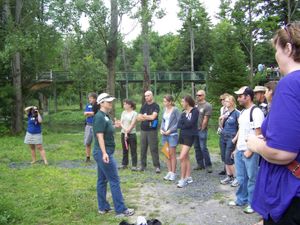 The choice of conference, seminar, or workshop will depend on your outcome expectations and requirements. The subjects most often covered are listed below in alphabetic order. Should you have other topics in mind or wish to combine topics, no problem, I can create a specific program for your event. 
If you wish to organize an event, send your inquiries to Gaby.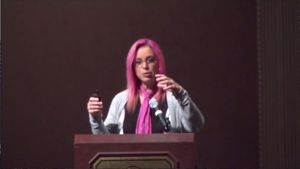 Conferences 
Wolf Animal-Assisted Therapy, Animal Behaviour Management Alliance, Portland, OR, USA
Wolf Animal-Assisted Therapy, Animal Behaviour Management Alliance, Cincinnati, OH, USA
Animal-Assisted Therapy Field Requirements, Concordia University, Montreal
Dog Language, PIJAC, Sherbrooke
Seminars
Dog Language, Click d'Agilité, Drummondville 
Clicker Training, Click d'Agilité, Drummondville 
Howling with the Wolves, Park Safari, Hemmingford
Dog Language, Mohawk Council Animal Protection, Kahnawa:ke
SAFER Test, Mohawk Council Animal Protection, Kahnawa:ke 
Workshops
Bite Prevention, Scouts Canada, Mirabel 
Bite Prevention, Groupe de l'ACPEQ, Mirabel 
Dog Language, Canine Festivities, Ste-Adele 
Dog Language, Festival Plein Air et Voyage, Montreal & Quebec
Fundraiser
Friends of Park Safari Foundation Golf Tournament 
Friends of Park Safari Foundation Bicycle Tour
SPCA Monteregie
Pit Stop Montreal
SPA Canada
Global Television
Morning News - Jessica Laventure
Morning News - Laura Casella
Morning News - Andrea Howick
CityTV
Only in Montreal - Matt Silver
Breakfast Television - Laura Casella
Breakfast Television - Elias Makos
TeleQuebec
Deux Hommes en Or - Jean-Philippe Wauthier et Patrick Lagacé
Légitime Dépense - Jeff Boudreault 
     - Les traitements anti-puces
     - Les techniques d'éducation canine
CBC Canada
Entrée Principale - André Robitaille
Alors on Jase - Joel Legendre
Téléjournal - Céline Galipeau
Brigade Animo - Sébastien Kfoury
CTV Montreal
News - Caroline Van Vlaardingen
News - Rob Lurie
TV5
Les Guérisseurs - Zoothérapie avec les loups.
Loin d'être bête - Zoothérapie avec les rats.
Bizarroscope - Mathieu Pichette
MATV
Libre Service - Marc-André Coallier
CJAD 800 
- The Dogue Shop talks weekly about animal behaviour with Kim Fraser (2009-2014)
- The Dogue Shop talks about dog behaviour with Rick and Suzan
- The Dogue Shop segments on with Ric Peterson
CBC 88.5
- A snippet into canine communication and their ability to decode our emotions with Loreen Pindera. 
CKOI 96,9 
- Midi Morency, émission de radio humoristique sur le métier de consultant en comportement animal avec François Morency
JOURNAL DU PLATEAU
- La brigade canine se décentralise
JOURNAL DE MONTREAL
- La brigade canine ne patrouille que dans le Plateau-Mont-Royal
- Ne touchez pas à mon pitbull, clament les propriétaires
- Les proptibulls promettent une opposition féroce
JOURNAL LA PRESS
- La bête noir à abattre
JOURNAL METRO
- Gaby, professeur de Doga
JOURNAL LA PRESSE
- Faire du yoga avec son chien
ZOONOOZ
- A short article about the arrival of the wolves at the San Diego Zoo for the ambassador program
- Part of a five-page article on arctic wolves and the imprinting process at Park Safari Zoo
Urbania
Un article sur le Doga
Pawsie
- Docteur, Mon Chien M'Ignore!
- Votre Chien Vous Ressemble Plus Que Vous Ne Le Pensez