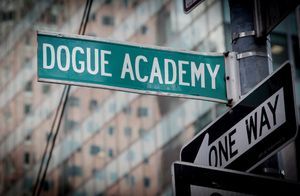 The Dogue Academy's mission is to educate, through science-based learning theories, enrichment, behavioural management, and behaviour modification, animals and the people who care for them.
We aim to promote the human-animal bond and establish secure attachments with animals. Without a strong connection, animals have greater difficulty learning; consequently, dogs exhibit behaviour problems. 
The Dogue Academy likes to set precedents in the industry, and we do this by constantly thinking outside the box. Dogue Academy students learn early on in their education that bonding is synonymous with trust. The trainer Steve Martin (not the actor), says, "If you don't deposit trust in your bank, you'll never be able to withdraw. Once you withdraw, depositing anew is vital to avoid deteriorating relationships." 
At the Dogue Academy, we do not use lures to train animals. Our programs focus on the social cognitive learning model and use attachment protocols to create or modify attachment styles. Therefore, our staff has been working on developing canine social-cognitive animal training (SCAT) for over fifteen years.
Finally, Dogue Academy is NOT a veterinarian, shelter, or rescue organization. The staff does NOT foster, rescue, or help people give their dogs away. Our employees do NOT allow strangers to come and pet our dogs to reduce stress, and we certainly will NOT allow strangers to come and walk our dogs.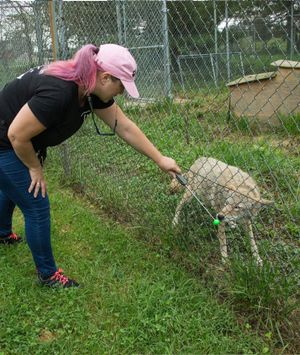 Science allows me to train animals of all species because learning theories and training techniques are the same no matter which species I work with. As a professional, the challenge for me is knowing which learning theory, training technique, and behaviour modification apply to the animal species I work with. I then establish a training protocol and set the animal up for success.

I love to teach and train animals, but my reinforcement comes when I see an animal display the behaviours that I, we, set out to change. Nothing is more satisfying than watching an animal understand what I am trying to teach it and seeing it modify its behaviour. 
Finally, I focus on the social cognitive learning theory to train dogs, zebras, rats, or giraffes. I am constantly studying (I am still in university, studying for my second degree) and modify my teaching. Science does not stand still; therefore, I dedicate my life to moving along with it.
I love all species, but I definitely am in my element when wolves surround me. There's nothing quite compelling as knowing you have changed an animal's brain for the better.